5 in 1 LED Skin Tightening Skin Care Device Therapy
Did You Know?

A study of 2,000 adults stated that having smooth, clear and healthy skin generates a boost of confidence.

Suffering from skin and pimple problems or acne is no fun at all, nor is waiting for a miracle to happen!

Eliminate Those Fine Lines & Wrinkles!

Our 5 in 1 LED Skin Tightening Device is a new skin care device that uses radio-frequency waves and light photon energy to promote muscle stimulation within the skin to create visible radiance and youthful-looking skin.

It promotes skin rejuvenation of collagen and hyaluronic acid by conducting muscle stimulation and electroporation.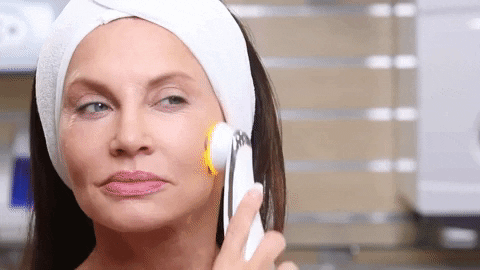 5 in 1 LED Skin Rejuvenation Device - Light Therapy Treatment

New 2021 Edition!

Our LED Skin Thightening is EFFECTIVE at removing wrinkles, acne, dark spots, fine lines, puffiness, saggy skin and more.

The device uses radio-frequency waves and light photon energy to promote muscle stimulation within the skin to create visible radiance and youthful-looking skin. In simpler words, this will improve almost every complaint you have about your skin!

STRONG POWER

There are 5 different levels of strength you can choose from. The higher the level, the more you will feel pulsating on your skin. It almost feels like electricity on your skin.

We recommend working your way up as some people may not be able to handle levels 4 & 5 right away.


Anti-Aging LED Skin Tightening Device – ShopMeilen

What Are The Benefits?

The device contains 4 tips of bipolar electrical points and 9 pieces of LEDs that can do 6 types of light therapy: Red, Green, Blue, Yellow, Pink, Flashing Pink.

✔ BLUE - Kills bacteria, promotes blood circulation, gets rid of acne.

✔ GREEN - Rejuvenates the skin into having a smooth and even skin tone. Dilutes pigmentation, dark spots, freckles and improves overall skin color.

✔ RED - Reduces fine lines and wrinkles dramatically. Improves skin firmness and elasticity, helping to lift and tighten the skin by naturally stimulating the collagen production.

✔ YELLOW - Stimulates the lymphatic and nervous system, restores the balance of sensitive skin. Treats and reduces redness caused by rosacea

✔ PINK - Revitalizes the skin for a brighter glow. Adds radiance and vitality to dull skin. Enhances the absorption ability of the skin for skincare products.






Outstanding Features

By using our 5 in 1 LED Light Therapy you can instantly transmit all the nutrients that your skin needs to eliminate those fine lines, remove wrinkles, and kill the bacteria which creates acne and blemishes.

✔ COLLAGEN & ELASTIN PRODUCTION- This newly produced collagen acts as a wrinkle filler and elastin helps to maintain the skin's natural elasticity. Thus making the skin smoother and healthy-looking.

✔ ELIMINATES VASCULARITY SKIN PROBLEMS- Helps to fight against various skin problems like redness, acne, spider veins, or rosacea.

✔ REPAIR SIGNS OF AGING- Improves absorption of skincare products, overall skin color, and evenness by diluting pigmentation and dark spots.

✔ SAVE THOUSANDS OF DOLLARS - Don't bother burning money on various face treatments at Salons/Spas every few weeks. This device is the best one-time investment that will keep your skin rejuvenated for years.



How to use:

1. Insert the USB cable connector into the device
2. Clean the skin, apply a serum or cream on your face.
3. Press LED 
4. Move the device slowly on your face.


The device will automatically shut off after 10 minutes of use.

Why Shop With Us?

✓ Free Shipping Available
✓ Quality Control

Why You Should Act Today?

Due to An Unexpected high demand, Our Stock is depleting faster than expected!

To avoid restocking delays, act fast and click the "Add To Cart" Button and your gift will be reserved with us with FREE Shipping. 

Risk-Free Purchase
At BeautyGrace&Co, we make sure that our customers receive full value and an enjoyable shopping experience. We offer the most secure Global Payment Gateways such as Paypal & Stripe 

Great seller. I am very happy with their service and communication.
If I got it, I liked it but I didn't use it I started using it but it's too early to see the results